Corona virus update: While we are all hunkered down at home because of this virus, I will be teaching my current classes online. I do hope to return to in person classes as soon as possible. When that will be possible is presently unknown!

I am planning to teach an outdoor drawing class as soon as the weather warms up, listed below " to be decided." We would all keep 6 feet apart and I would have to have students put their drawings down so I can look at them while they step back, and then talk about them from our safe social distence. This is less than ideal, but currently necessary.

Keep safe and be well,
Claire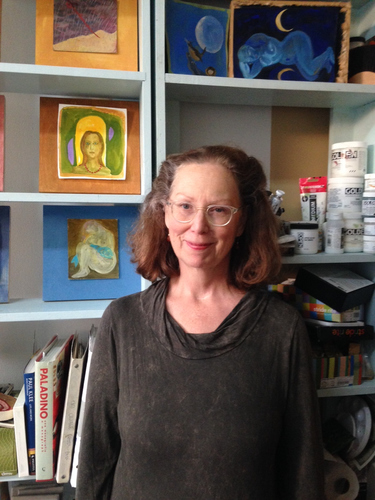 About Claire Wyzenbeek
Claire has a Bachelor of Fine Arts in Drawing and Illustration from Carnegie Mellon University in Pittsburgh, PA; plus a Diploma from the Museum of Fine Arts School in Boston, MA with a concentration in Painting and Art History. She also has a nearly completed Master of Arts in Teaching in Art Education from Tufts University.

Claire has been teaching Fine Arts classes in Charlottesville, VA; Boston, and in the North Shore of Boston from the 1990s onward. She has exhibited her Paintings, Collages and other Art work widely in the New England area.

Her Art Classes are held at her studio Yes Art Space, studio 20-21, 222 Cabot St., Beverly, MA. Her focus is on creating a supportive and friendly atmospere while providing techniques, inspiration and insight to help students progress in their work.

Mixed Watermedia--Ink, Watercolor & Gouache
6 Fridays 12:30-3:30PM. January 31st-March 6th 2020.
Come and explore the many ways of working in watermedia in my sunny Beverly studio. You will learn ways to use and intermix colored inks, watercolor and gouache. Color mixing and layering, glazing, and brush techniques will be taught. We will keep it lively with drawing and painting abstractly, from imagination and from observation. Weekly materials demonstrations are given. Contemporary and historical examples of each water media will be shared for inspiration. Small classes and a friendlly, helpful atmosphere will support your progress.
Open to all levels. Beginners are very welcome.

Classes meet at YES Art Space, 222 Cabot Street Studios, Beverly, MA.
6 Friday classes, 12:30-3:30PM, are $360. Materials list is sent on registration.
Please contact claireskylark@gmail.com

Experimental Drawing: Abstraction and Observation
7 Wednesdays 12:30-3 PM. February 12-April 1st, 2020 No class March 18th.
Drawing is a delightful way to connect to both seen and imaginary worlds. In this supportive and friendly class, you will learn to see and use elements of drawing such as line, form, space, contrast, proportion and expressive mark making. You will draw expressive still lives from observation and create abstractions from experimention with multiple media including charcoal, pencil, ink, oil pastel, oil stick, and acrylic gesso. Weekly materials demonstrations and Contemporary Art examples for inspiration will be shared. All levels. Beginners are very welcome!

Classes meet at YES Art Space, 222 Cabot Street Beverly, MA.
7 Wednesday classes 12:30-3:30 PM, $360. No class March 18th.
Materials list is sent on registration. I will gladly send my phone number if you email me.
Please contact Claire at claireskylark@gmail.com to register.

Nature Drawing: Flowers, Rocks, Water, Leaves
To be decided, Spring or Summer 2021
Enjoy drawing in beautiful outdoor settings from small natural objects, such as rocks, leavmedes, shells, flowers, and plants, as well as the patterns of light on water. Charcoal, pencil, color pencil, ink drawing and watercolor drawing will be demonstrated and taught. Classes will meet at Stage Fort Park, Gloucester. On rainy days we will meet at my Gloucester home studio and work from my collection of Nature specimens. Materials list is sent on registration.
Beginners are very welcome

To be decided, Spring or Summer 2021
Classes will meet at Stage Fort Park, Gloucester, MA
(or Claire's Gloucester studio if raining)
To contact Claire about future interest, please email her at: claireskylark@gmail.com

Mixed Media Collage
8 Thursays. 12:30- 3:30PM. Winter 2021 Session: January 21st -- March 11th.

Work spontaneously and intuitively using your choice of mixed media materials
such as inks, watercolors, acrylics, fabrics, oil pastels, and found images. Each week a new material will be demonstrated, and many materials are provided.
We will explore multiple approaches including working from observation, imagination, and abstraction. Individualized instruction will aid your experimentation to lead you to discover personal imagery which speaks to you. All levels, Beginners very welcome.

Classes meet at YES Art Space, 222 Cabot Street Studios, Beverly, MA.
8 Friday classes, 3 hours each, are $490.
Materials list is sent on registration, many materials are provided.
Please contact claireskylark@gmail.com